There isn't a Biggest Story for Today, yet.

African Diaspora: The British Royal Wedding, Feelgoodism and the Colonial Jumbie


By Tyehimba Salandy
May 20, 2018

Ten years ago, British 'royalty', Prince Charles and his wife Camilla visited the Caribbean and locals prostrated before them. Local leaders made arrangements for them to play the Steelpan and the sacred Rastafarian Nyabinghi drums. Leslie from Africaspeaks.com wrote an insightful article titled Royal Visit Highlights Lingering Colonialism that brought attention to the dynamics of colonialism in this visit. This article is as relevant today as it was ten years ago when it was written, given the celebratory eruptions at the wedding of British monarch Prince Harry and his bride Meghan Markle. Yet the region is poorer today for elevating fake royalty to dizzying heights of reverence while neglecting the royalty inherent in resistant Caribbean voices who have worked hard at improving Caribbean societies.

While many people gush at royalty and the "power of love", for people of the Caribbean and wider global south, who are still faced with the structures of British coloniality imbedded deeply in our society and the world we live in, it is an opportunity to reflect on these issues.


By Dr. Selwyn R. Cudjoe
October 09, 2016

In academic and political lectures, when I refer to the negative psychological and economic impact slavery has had on black people, my questioners usually retort: "You have to bring up slavery again?"

The same people who object to my bringing up slavery's impact upon black people have no objections when Jews urge their people: "Never forget!"

This raises the question: Why should black people forget about slavery when Haiti, well into the 20th century, paid reparations to France for having fought for and won their freedom? In 1825, threatening an invasion, France sent a flotilla to Haiti to compel Haitians to pay a ransom of 150 million gold francs for their freedom. It was reduced subsequently to 90 million gold francs or US$40 billion in today's currency. In 2010, 90 leading academics, authors, and human rights activists, in an open letter to president Nicolas Sarkozy, "urged the French government to pay Haiti for the 90 million gold francs Haitians were forced to pay France for their independence" (London, Guardian, 16 August 2010).

By Margaret Kimberley
April 29, 2015 - blackagendareport.com
"Gates is celebrated as a role model for black success when his fame and wealth derive from currying favor with white people and demeaning black people."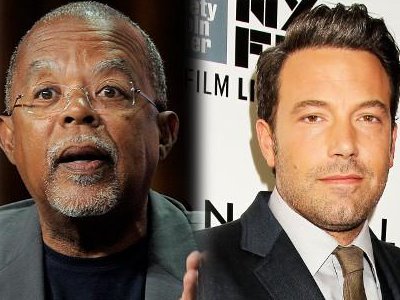 Henry Louis 'Skip' Gates and Ben Affleck
U.S.A.: Beyond Twelve Years a Slave


By Paul Street
March 24, 2015 - blackagendareport.com

"The uncompensated crime and tragedy of racial oppression in before and after slavery continues to accumulate its blood and financial cost to this very day."

I am never more than slightly encouraged about white America's capacity for breaking from the United States' deeply embedded racism when I hear one of my fellow US Caucasians report that they've viewed the Black British director Steve McQueen's powerful movie Twelve Years a Slave and were "moved" (sometimes to tears) by it. It's good that some US whites have retained enough inner humanity to recognize and recoil from the revolting racist cruelty and abominable torment that lay at the heart of the Southern US slave system depicted in Twelve Years a Slave. Sadly and sickeningly enough, untold millions of white Americans have been induced to think of the slave South as some kind of quaint, benign, and paternalistic time and place when benevolent white masters cared for the black chattel they viewed as inferior "family members."

Twelve Years a Slave burst that childish white historical bubble with a relentlessly true-to-life and death portrayal of 1840s and 1850s slave traders, slave-owners, and slave-drivers as ferocious and perverse sociopaths, exploiters, torturers, sadists, and rapists. Based on the published 1853 narrative of Solomon Northrup, a free Black Northerner who was kidnapped and sold into Georgia cotton slavery, the film rightly portrays the slave system as a living Hell for its Black victims.


By Glen Ford
October 31, 2013 - blackagendareport.com

"Real reparations means nothing less than a revolution in global power."

Twelve English-speaking Caribbean nations, plus Haiti and the South American country Surinam, are going to court demanding reparations from their former colonial masters for the crime of slavery. Great Britain, France and the Netherlands, all of [which] grew fat from generations of captured African labor, would be defendants in a trial before the International Court of Justice, the world body that adjudicates disputes between nations. The Black countries have hired the British law firm Leigh Day, which won a settlement for victims of British torture in Kenya. Judging by the way the lawyers tell it, this is going to be a very polite affair, in which the Caribbean countries will angle for some type of relatively modest money settlement.

By "relatively modest," I mean that real reparations would be enough to forever sever the relationship of subservience of the former slave colonies to global systems of white supremacy and European rule. Real reparations means nothing less than a revolution in global power, because without such a revolution, those nations that became rich from slavery will maintain their position as overlords deep into the future. Ten or even fifty billion dollars in payments divvied up among the plaintiffs in a lawsuit will not change the basic master-slave relationship that has obtained since Europe embarked on world conquest, 500 years ago. Unless there is a fundamental political change within these Caribbean nations, such as occurred in Cuba, then any exchange of money will only reproduce the existing neocolonial relationships. If the leadership of Caribbean governments is incapable or unwilling to build new social relations at home, they cannot be expected to use reparations money to build true independence, internationally. I strongly suspect that what is really on the table is an "aid" package in "reparations" wrappings – which would be an insult to the ancestors and a deception of the living.


By Onika Henry
August 06, 2013

Racism is oppressive, dehumanising and has been systematically put in place to keep people from achievement and advancement, based on a belief of superiority over another or "more worthy than" the other. I do not recall a time when certain groups of people EVER had the power to enforce racism. To suggest certain people practise racism and "reverse racism" when they discriminate against others, is in my opinion, an indication of ignorance of what racism really is and how it operates. To me it suggests a denial of truth and/or an inability to see and feel from another's perspective.

Those who have never lived the life as a member of an oppressed group, or who have not inherited the sometimes intangible but real effects of hundreds of years of slavery and dehumanisation (which continues in more subtle and disguised forms today) may find it difficult to understand how the weight of racism can crush the spirit. While for some, living the life of a civil and human rights fighter or activist on a daily basis is a fine and comfortable choice, for others, the "fight" takes on the persona of a moral commitment to live life holistically and to promote well-being of self, family, friends and colleagues, which in and of itself is another way of dealing with oppression.
Racism Watch: The Ultimate Logic of a Society Built on Mass Murder


A Black Agenda Radio commentary by Glen Ford
January 07, 2012 - blackagendareport.com

"Mass murder is at the core of the American national religion."

As a native-born American, I grew up watching cowboy and Indian shoot-em-ups in which the highlight of the movie was when the white guys in the circled wagon train shot the Indians off their horses until all the red men were dead, and very silent. Indians didn't do a lot of screaming in pain when they were shot; they just expired. Same thing with buck-toothed Japanese, line after line of them, charging into U.S. machine guns, falling instantly silent and dead. It was somehow quite clean, almost antiseptic, these cinematic rituals of death, all staged for the broadest popular consumption to demonstrate the inevitability – and cosmic justice – of ultimate white victory over the darker races.


By Makini
July 01, 2012

Recently, I was having a discussion about Arabs in Africa which led me to do some research on the Arab Slave Trade and to try to understand its significance and impact on the African continent before Europeans took center stage. It made me think to look again at some pictures of the city of Mombasa which is on the east coast of Kenya. The city's buildings have a strong Arabic theme, due to past invasions by Arabs. Indeed the area has a significant history of Arab slavery which was meted out to coastal Kenyan populations. In reading, I came across this article, "Kenya: Postcolonial Imperial Hangover" by Nicholas Githuku in the Pambazuka News. I was struck by the last three sentences the author made in this paragraph:

"Attempts to secede, besides what must have been truly inspiring Arab Spring revolutions in the north of Africa, are based on the arrangement reached between two empires, one big and overstretched needing the smaller one (Omani) that had played a crucial role in the politics and economics of the region way before the British made their presence felt in the east coast of Africa. One of my inspirations to specialize in history and war and conflict by extension was the heroics of Saif bin Sultan, the Iman of Oman, who routed the Portuguese from the Zanj in the 1690s. It should be remembered that before this in 1862, France and Britain had agreed reciprocally and mutually "guaranteed" the integrity of Zanzibar's domains. In the 17th century, in 1837 decided to oversee his eastern African coast territorial and trade interests more closely and thus made resplendent Zanzibar his citadel of the growing Oman Empire and influence along the coast. Zanzibar was, significantly, also the nerve center of the slave trade that exploited the hinterland of what is modern Kenya, Tanzania all the way to Zambia and DRC-Congo, which were the supply zones. There's no gainsaying the fact that trade in African slaves increased with Omani hold on Zanj territory. But that is beside the point."

How is the Arab slave trade, which was conducted on such a vast scale and over such an extensive period of time, secondary to Oman Sultan Sai'd Ibn Sultan's choice to fend off the Portuguese or any other European/Western influence? The same basis for territorial defense occurred along many other coastlines in the North of Africa as well as other parts of Africa over the centuries.


socialistworker.co.uk
July 08, 2011

Racism is so embedded in our society that many people assume it has always existed. But, says Yuri Prasad, it is really a modern phenomenon that developed with capitalism.

The plague of racism continues to scar the world that we live in, even though there is no scientific basis whatsoever for the division of society into races. Race is a social construct that benefits our rulers.

The idea that people with different skin colours have different ideas and interests is a common sense one. The implication of this for many people is that prejudice is natural, and that any attempt to get rid of it is doomed.
Racism Watch: International slavery museum: a refreshing approach to history


Dan Swain is impressed by a museum that unravels the links between Liverpool and the slave trade
August 28, 2007
socialistworker.co.uk

Dan Swain is impressed by a museum that unravels the links between Liverpool and the slave trade

The new International Slavery Museum in Liverpool quotes prominently the former slave William Prescott asking us to "remember not that we were freed, but that we fought".

This is a refreshing change from much of the coverage of the 200th anniversary of the abolition of the transatlantic slave trade, which has tended to focus on the actions of a few white abolitionists, relegating the slaves themselves to passive victims.
African Diaspora: Why Britain Should Apologise and Pay Reparations to African Peoples


By Herbert Ekwe-Ekwe, nigeriaworld.com
December 6, 2006

British Prime Minister Tony Blair recently told The Nation (the London-based weekly publication that focuses mainly on African peoples' readership) that his country was "sorrowful" over its central role in the European World's enslavement of African peoples. This declaration is surely not good enough as Britain is the leading beneficiary of this holocaust. Blair should have apologised unreservedly to Africans across the world for Britain's role in a holocaust that remains humanity's most gruesome, most expansive, and most enduring. Blair should also have announced a comprehensive package of reparations paid to all surviving Africans in Africa, Europe, the Americas and elsewhere in the world for this crime.


The Jackson State Murders, May 14, 1970

By Ron Jacobs

Recently, the US press gave a few lines of coverage to the murders of four Kent State University students by Ohio National Guardsmen during antiwar demonstrations at the school thirty-five years ago. Sometimes these reports also included a reference to the murders of two more young people ten days later at Jackson State University in Jackson, Mississippi. These murders have always been a footnote to the Kent State killings. Part of the reason for this is the fact that they occurred after the Kent actions, but another aspect to this perception and portrayal is the fact that the young people who were murdered by police in Jackson were African-American. Through no fault of the Kent victims, the nature of US society is that white deaths count for more than those that occur to darker-hued individuals.


By Linda Edwards

January 27th, marked the 60th anniversary of the liberation of the concentration camp at Auschwitz, the Nazi's ugly attempt to wipe out the Jews and other "undesirables" of Eastern Europe. There were dignitaries from every major "western" nation paying their respects in the snow. On Wednesday evening, Jan. 26th, some young African Americans I know held a fund-raiser to get money for a band to go to the Mardi Gras in New Orleans. They auctioned off various males to the highest bidder. The band-leader drew the highest price. One young person was deemed to be worth only twenty-six cents. The children laughed at the cheap price he fetched.

The idea of auctioning off humans, even in fun, should be so repugnant to all people of African origin that there should be general outrage at the idea of a fun sale of men (or any other humans). None of the young people with whom I discussed this saw my point. "But we need the money." "How else will we raise the funds, are you going to donate some?" "You are making a big thing of nothing." They felt the same way about young Prince Harry wearing a swastika patch on a shirt to a party recently.


How far have Blacks emerged from the spell of zombie-fication?

By Ras Jahaziel
January 06, 2002

The most frustrating thing that confronts the African liberation struggle is not the blind arrogance and intransigence of THE WHITE WORLD ORDER, but the blind cooperation that the victims of white racism give to their masters. Whether it be stupidity, ignorance or lack of over-standing, there is still present amongst the vast majority of Blacks around the world, a firm resolve to cling to the yoke of racial subjugation. Perhaps it is a case of having worn the yoke so long that it has become "normal" and acceptable.


A Bomb is a Bomb!

By Niyi Shomade

As arguably the richest continent in terms of culture, land, and resources, Africa has made America the richest country in the world. Yet Africa's population remains the world's poorest. If we agree that land and people are the greatest resource and that health is the greatest wealth, this paradox will be understood when analyzed within a historical context. Slavery, colonization and post colonial realities have saddled the continent with health deficiencies, environmental degradation, adverse trade agreements, odious debts, wars and widespread political instability that fuel Africa's economic and political dependency on America and Europe. Without economic independence, Africa has no political independence and therefore, no independence. Africa has never been asked if she prefers a Democrat or Republican in the White House. If this question was posed, it would be answered with a glare: A bomb is a bomb!

There is a problem right now with this block.