There isn't a Biggest Story for Today, yet.
Thursday, December 10
·
Yeswecanistan
Tuesday, December 01
·
Americans Are Deeply Involved In Afghan Drug Trade
Sunday, July 12
·
John Pilger on Honduras, Iran, Gaza, the Corporate Media, Obama...
Thursday, February 26
·
Obama's Non-Withdrawal Withdrawal Plan
Sunday, January 25
·
Obama's Pentagon: Bowing to the Masters of War?
·
Is Obama just playing good cop?
Tuesday, July 03
·
Heart of Darkness: The Deepest Secret of the CIA
Thursday, April 12
·
Algeria Attack and the al-Qaeda Penetration of Africa
Monday, March 05
·
The Anti-Empire Report
Sunday, February 25
·
George Galloway: 'The Iraq war has scarred the world'
Older Articles

War and Terror: American Foreign Policy - Have Our War Lovers Learned Anything?

By William Blum
March 05, 2012 - www.killinghope.org

Over the past four decades, of all the reasons people over a certain age have given for their becoming radicalized against US foreign policy, the Vietnam War has easily been the one most often cited. And I myself am the best example of this that you could find. I sometimes think that if the war lovers who run the United States had known of this in advance they might have had serious second thoughts about starting that great historical folly and war crime.

At other times, however, I have the thought that our dear war lovers have had 40 years to take this lesson to heart, and during this time what did they do? They did Salvador and Nicaragua, and Angola and Grenada. They did Panama and Yugoslavia, and Afghanistan and Iraq. And in 2012 American President Barack Obama saw fit to declare that the Vietnam War was "one of the most extraordinary stories of bravery and integrity in the annals of military history".1
War and Terror: The Reality of the 'Lesser Evil'


Is This Child Dead Enough for You?

By Chris Floyd
December 06, 2012 - chris-floyd.com

To all those now hailing the re-election of Barack Obama as a triumph of decent, humane, liberal values over the oozing-postule perfidy of the Republicans, a simple question:

Is this child dead enough for you?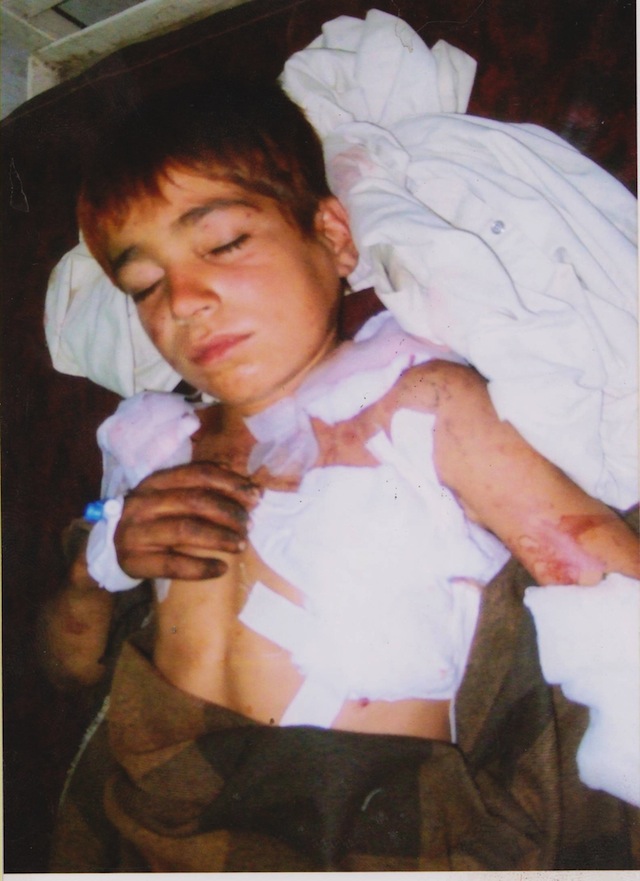 War and Terror: A new call against standing idly by?


By Stephen Gowans
December 05, 2012 - gowans.wordpress.com

Will the United States, or its proxies, directly intervene militarily on the side of Syrian rebels? If so, a pretext will likely be needed, and it may be this: Syrian leader Bashar Assad, desperate to cling to power, is poised to use chemical weapons against civilians. An intervention is necessary to prevent a massacre.

Yesterday, White House Press Secretary Jay Carney said:"We are concerned that an increasingly beleaguered regime, having found its escalation of violence through conventional means inadequate, might be considering the use of chemical weapons against the Syrian people." (my emphasis) (1)

The Syrian Foreign Ministry denies the allegation, ruling out the use of chemical weapons against Syrians "under any circumstances." (2)
War and Terror: What is the Difference Between Benjamin Netanyahu & Colin Powell?


The Precautionary Principle in Action

By Franklin C. Spinney
October 01, 2012 - counterpunch.org

Who is the more sophisticated bullshitter when it comes to convincing the world of the pressing need to bomb a Muslim country before it attacks anyone — Colin Powell or Benjamin Netanyahu. The attached visual aid combined with the entymology of the word "sophisticated" and an analysis of the word before should enable you to answer to the question to your own satisfaction.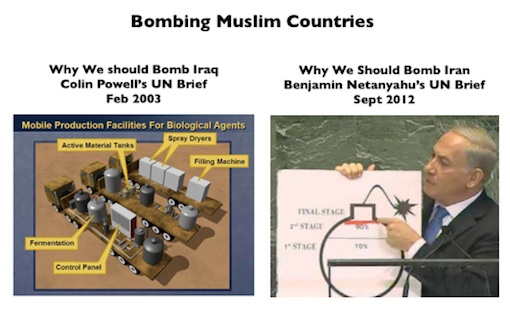 The charts speak for themselves. Now consider please the following elaboration of the preceding italicized words:
War and Terror: The Irrationality of the Case against Iranís Nuclear Program


By Gary Leupp
April 13, 2012 - counterpunch.org

President Obama has informed the Iranians they have one "last chance" to avoid attack. They must suspend higher uranium enrichment, close down the Fordow enrichment facility, and "surrender" their stockpile of uranium enriched to 20 per cent purity. Iranian officials respond matter-of-factly that such demands are "irrational." (Some Israeli officials, eager to build the case for attack, are reportedly delighted with the Iranian response.)

Seasoned U.S. analysts seem to agree with the Iranian assessment.Stephen M Walt writes in Foreign Policy, "For the life of me, I can't figure out what the Obama administration is thinking about Iran... I'm puzzled." Gary Sick, writing for CNN, predicts dire consequences of an attack on Iran and seems to question its wisdom. So why is Obama being so confrontational? So irrational?
War and Terror: 'Human Rights' Warriors for Empire


By Glen Ford
February 17, 2012 - blackagendareport.com

The largest imperial offensive since the Iraq invasion of March, 2003, is in full swing, under the banner of "humanitarian" intervention – Barack Obama's fiendishly clever upgrade of George Bush's "dumb" wars. Having failed to obtain a Libyan-style United Nations Security Council fig leaf for a "humanitarian" military strike against Syria, the United States shifts effortlessly to a global campaign "outside the U.N. system" to expand its NATO/Persian Gulf royalty/Jihadi coalition. Next stop: Tunisia, where Washington's allies will assemble on February 24 to sharpen their knives as "Friends of Syria." The U.S. State Department has mobilized to shape the "Friends" membership and their "mandate" – which is warlord-speak for refining an ad hoc alliance for the piratical assault on Syria's sovereignty.
War and Terror: Rationalizing Idiocy: Attacking Iran For All the Right Reasons?


By Ron Jacobs
January 30, 2012 - dissidentvoice.org

Unlike a couple of years ago, when the consensus was split, there recently seems to be a growing consensus among pundits and certain politicians that Washington will be launching a military attack on Iran. While pundits do not have the power to make war, politicians in Congress certainly do. Furthermore, pundits convinced that this is an advisable route will do their best to bend the ears of those politicians so that there wishes can be filled, especially if those pundits are representing interests that believe they would benefit from such an attack.

Why now? Part of the reason is because the majority of US troops are out of Iraq, thereby leaving a minimal number of American soldiers available for Iranian retaliation. A related reason could be the loss of prestige to Washington with the withdrawal of those troops. It's not like Washington won its war in Iraq; it's more like it was a stalemate with Tehran still holding on to a couple key cards. Israel, with an element of its ruling elites always ready to attack any perceived enemy, is of course a constant element in the drive to destroy Iran, as are the ruling families of certain Arab Gulf states that compete with Tehran in the oil market. Iran's alleged support for various resistance movements in the Middle East and Asia provides Israel with but one more reason to call for war, especially since those resistance movements are primarily opposed to Israel's expansionist anti-Palestinian policies.
War and Terror: Propagandized America

By Margaret Kimberley
November 29, 2011 - blackagendareport.com

"So-called prestigious publications will print the most outrageous information without attribution, investigation or proof of very serious charges."

When Americans think of propagandized people they think of the now defunct Soviet Union or Nazi Germany or perhaps a banana republic dictatorship of the sort supported by their government. Very few of them would think of themselves as being under the sway of a government and corporations who work hand in glove to tell outright falsehoods or hide important information that is inconvenient for them.
War and Terror: Remote Control Killing Like Sport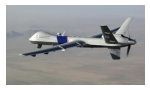 By Stephen Lendman
June 15, 2011

Defense contractor giants like Boeing, Lockeed Martin, Northrop Grumman, and others, as well as smaller rivals compete for growing demand for unmanned aerial vehicles (UAVs). They include remote control operated killer drones, also called unmanned combat aerial vehicles (UCAVs).

It's America's newest sport. From distant command centers, far from target sights, sounds, and smells, operators dismissively ignore human carnage showing up as computer screen blips little different from video game images. The difference, of course, is people die, mostly noncombatants. More on that below.
War and Terror: CIA Requires Secrecy To Conceal Its Own Crimes

By Sherwood Ross
June 13, 2011

If the CIA routinely lies to the American people, maybe that's because its got so much to lie about, like killing millions of innocent human beings around the world. As far back as December 1968, the CIA's own Covert Operations Study Group gave a secret report to president-elect Richard Nixon that conceded: "The impression of many Americans, especially in the intellectual community and among the youth, that the United States is engaging in 'dirty tricks' tends to alienate them from their government."

According to Tim Weiner's book Legacy of Ashes (Anchor), the report went on to say: "Our credibility and our effectiveness in this role is necessarily damaged to the extent that it becomes known that we are secretly intervening in what may be (or appear to be) the internal affairs of others."
War and Terror: Americans Are Living In 1984

By Dr. Paul Craig Roberts
Global Research, May 9, 2011

The White House's "death of bin Laden" story has come apart at the seams. Will it make any difference that before 48 hours had passed the story had changed so much that it no longer bore any resemblance to President Obama's Sunday evening broadcast and has lost all credibility?

So far it has made no difference to the once-fabled news organization, the British Broadcasting Corporation (BBC), which on March 9, eight days later, is still repeating the propaganda that the SEALs killed bin Laden in his Pakistani compound, where bin Laden lived next door to the Pakistani Military Academy surrounded by the Pakistani army.

Not even the president of Pakistan finds the story implausible. The BBC reports that the president is launching a full-scale investigation of how bin Laden managed to live for years in an army garrison town without being noticed.
War and Terror: Media Lies and Misinformation on Bin Laden

By Stephen Lendman
May 4th, 2011

Corporate media manipulators love a big story they can hype, distort and falsify to attract large audiences, unaware they're getting managed news, not truth.

Moreover, the bigger the event, the worse the reporting, and no matter how often they're fooled, madding crowds rely on proved unreliable sources like US cable and broadcast TV, as well as corporate broadsheets and popular magazines publishing rubbish not fit to print.

After Obama's May day announcement, round-the-clock coverage now features "story one" ad nauseam, cheerleading the death of a dead man with no one allowed on to refute it.
War and Terror: Anti-Empire Report: Things Which Don't Go Away


By William Blum
September 02, 2010 - killinghope.org

Iraq

"They're leaving as heroes. I want them to walk home with pride in their hearts," declared Col. John Norris, the head of a US Army brigade in Iraq.[1]

It's enough to bring tears to the eyes of an American, enough to make him choke up.

Enough to make him forget.
War and Terror: North Korean, Iranian nuclear capability threatens US imperialism


By Stephen Gowans
April 20, 2010 - gowans.wordpress.com

Washington Post columnist Walter Pincus has put his finger on what's wrong with north Korea and Iran developing nuclear weapons, or having the capability to do so.

The problem is that nuclear weapons are a deterrent, which means that if either country possesses a credible nuclear arsenal and the means of delivering warheads, their conquest by US forces isn't in the cards. And that is something Pincus seems to regard as regrettable.

In his March 30 column Pincus points to General Kevin P. Chilton, head of the US Strategic Command.

Chilton reminded US legislators that, "Throughout the 65-year history of nuclear weapons, no nuclear power has been conquered or even put at risk of conquest, nor has the world witnessed the globe-consuming conflicts of earlier history." [1]
War and Terror: Liberals Get a War President of Their Very Own


By Murray Polner
February 08, 2010 - hnn.us

Suddenly and surprisingly, we have a Bush-like Obama Doctrine. To the applause of liberal hawks and formerly critical neocons, the president declared in his Nobel Peace Prize speech that the U.S. will continue to wage war—though naturally, only "just" war—anywhere and against anyone it chooses in a never-ending struggle against the forces of evil. His antiwar supporters can take seats on the sidelines. It's all reminiscent of John F. Kennedy and the prescient George Ball, and afterward Ball and Lyndon Johnson. In the early '60s, JFK—reluctantly, we are told by his admirers—decided to send 16,000 "trainers" to Vietnam to teach the South Vietnamese how to play soldier and to stop the Communists from sweeping over Southeast Asia. Vast quantities of money and assorted advisers were shipped without accountability to the corrupt gang of thugs running and ruining that country.

Don't have an account yet? You can create one. As a registered user you have some advantages like theme manager, comments configuration and post comments with your name.
There are currently, 174 guest(s) and 13 member(s) that are online.

You are Anonymous user. You can register for free by clicking here