There isn't a Biggest Story for Today, yet.

African Diaspora: US & France Intervene in Mali To Protect Land & Resource Grabs

US & France Intervene in Mali To Protect Land & Resource Grabs, Not Because of Al Qeda

By Bruce Dixon
April 29, 2013 - blackagendareport.com

On March 15, former General and AFRICOM commander Carter F. Ham testified before the House Armed Services Committee that the situation in the West African republic of Mali is, along with that in Nigeria and Somalia, "a direct threat to the national security of the United States." In plain language, claiming a direct threat to US national security is the standard justification for murderous military intervention around the world, and Mali has just been added to the hit list.

Echoing official sources like General Ham, corporate media tell us that Al Qeda and related Islamist forces, flush with weapons from the recent conflict in Libya, are poised to overrun Mali. Should we believe them? Aren't they the same folks who once assured us Saddam, and nowadays Iran, have nuclear weapons? Of course they are, and the real reasons for US intervention are something else entirely.

"We learned the lesson in Yugoslavia, Iraq, Afghanistan: be strong."

By Stansfield Smith
April 11, 2013 - counterpunch.org

I recently returned from a late March trip to North Korea [Democratic Peoples Republic of Korea, DPRK], along with 45 others, through Koryo Tours. On that tour I had the opportunity to discuss with the Korean tour guides their views on the current situation. I only recall the DPRK view mentioned here once in the corporate media, when Dennis Rodman returned with a message from new President Kim Jong. The message was "I don't want war, call me." Nobel Peace Prize winning President Obama refused to accept it, evidently preferring an escalating threat of a regional nuclear war to talking. I asked my Korean tours guides to be interviewed so I could present their views to US people.

Has the DPRK made proposals for peaceful national reunification?

Yes, now we have options: the historic option of a federal republic, and the recent option. In our history we proposed three principles for reunification: that the North and South unite the country independently of foreign forces, that we reunify peacefully, and that we work together over the years to create the unity of the whole nation.
African Diaspora: Africa: Imperialism's High Mark of Conquest in the 21st Century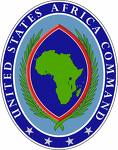 The US-NATO military curtain has fallen the length and breadth of Africa. 'Zimbabwe and tiny Eritrea are among the few nations on the African continent that have not yet been absorbed into the AFRICOM matrix.'
By Glen Ford
April 10, 2013 - blackagendareport.com
"Imperialism with a Black face has been fantastically successful, in Africa."

At present, nothing stands in the way of the militarization and occupation of Africa by the United States and its junior imperialist partners. Every global and multinational organization of any consequence on the continent has been suborned to the service of the neocolonial military project. AFRICOM, the United States Military Command in Africa, has become the headquarters of recolonization, augmented by the militaries of NATO and legitimized by the African Union, itself, and the global credentials of the United Nations.


By Stephen Lendman
March 06, 2013

Venezuelans mourn. Chavismo lives! Bolivarianism is institutionalized.

Venezuelans expect no less. They want no part of their ugly past. They'll put their bodies on the line to prevent it. They did before. They'll do it again.

Bolivarianism is policy. It's vital to preserve. It's polar opposite neoliberal harshness. America and Venezuela are constitutional worlds apart. More on that below.

On March 5, word came at 4:45PM. Vice President Nicolas Maduro announced it. "We have just received the most tragic and awful information," he said. Hugo Chavez Frias died. "It's a moment of deep pain."

"Those who die for life can't be called dead," he said.


By Tamara Pearson
March 05, 2013 - Venezuelanalysis.com

After two years of battling cancer, President Hugo Chavez has died today at 4.25 pm.

Vice-president Nicolas Maduro made the announcement on public television shortly after, speaking from the Military Hospital in Caracas, where Chavez was being treated.

Military and Bolivarian police patrols have been sent out into the street to protect the people and maintain the peace. For now, things are calm here, with some people celebrating by honking their car horns, and many others quietly mourning in their homes. Around the country mourners are also gathering in the main plazas to rally, and in some cases, to pray.

Maduro made the announcement just a few hours after addressing the nation for an hour, accusing the opposition of taking advantage of the current situation to cause destabilisation.
War and Terror: American Foreign Policy - Have Our War Lovers Learned Anything?

By William Blum
March 05, 2012 - www.killinghope.org

Over the past four decades, of all the reasons people over a certain age have given for their becoming radicalized against US foreign policy, the Vietnam War has easily been the one most often cited. And I myself am the best example of this that you could find. I sometimes think that if the war lovers who run the United States had known of this in advance they might have had serious second thoughts about starting that great historical folly and war crime.

At other times, however, I have the thought that our dear war lovers have had 40 years to take this lesson to heart, and during this time what did they do? They did Salvador and Nicaragua, and Angola and Grenada. They did Panama and Yugoslavia, and Afghanistan and Iraq. And in 2012 American President Barack Obama saw fit to declare that the Vietnam War was "one of the most extraordinary stories of bravery and integrity in the annals of military history".1
African Diaspora: Imperial Jockeying in Africa: U.S. Intervention Sets to Deepen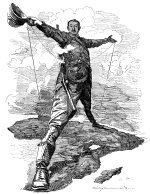 By Ben Schreiner
February 20, 2013 - workingleft.blogspot.com

As "the peril of guerrilla war looms" for the French in Mali, the United States prepares to step-up its intervention across Africa.

Speaking in Bamako on Tuesday, U.S. Senator Christopher Coons, chairman of the Senate Foreign Relations Committee, stated that direct U.S. military support of the Malian government is likely to resume after the country's July elections.

"After there is a full restoration of democracy," Coons said, "I would think it is likely that we will renew our direct support for the Malian military."

(The U.S. suspended direct military aid to Mali following a coup last year by a U.S.-trained Malian officer.)

Coons went on to deem al-Qaeda in Islamic Maghreb (AQIM) a "'very real threat' to Africa, the United States and the wider world."


By George Alleyne
February 20, 2013 - newsday.co.tt

Although I hold no brief for Robert Mugabe, Zimbabwe's leader of many years, nonetheless his policy of Zimbabwe's reclaiming rich agricultural land which had been arbitrarily seized by British settler farmers when his country was overrun by the United Kingdom was a correct one.

Yet when Mugabe sought to recover the land, following on Zimbabwe's achieving Independence, after 90 years of colonial rule and cruel exploitation, the Western world insisted that what he was doing was illegal and against good international practice. Apparently, it was in order for the British settlers to have appropriated the land, but another for freed Zimbabwe to retrieve it.

Although the British had sought to legitimise the seizure of the land, as Jeffrey Herbst pointed out in his book, State Politics in Zimbabwe, through the enacting of Land Ordinances which "guaranteed white economic domination and black poverty during the 90-year colonial period" the action was unjust. It was a criminal act, the enormity of which can be gauged by the fact that when Zimbabwe gained its Independence in 1980, 5,000 white settler farmers controlled some 50 percent of the country's arable land. The other half, as Herbst noted, was occupied by approximately 700,000 indigenous farmers.
Racism Watch: Just Like Crack in the 80s, the Police State Thrives on Gun Hysteria

By Glen Ford
February 17, 2013 - blackagendareport.com

"The presence of guns in Black inner cities is sufficient excuse to create a Constitution-free zone."

From the moment it became known that 20 suburban, mostly white children had been massacred by a young white man in Connecticut, it was inevitable that Black America would pay the price. The nation's reflexive response to crime and domestic mayhem – real or imagined, and regardless of the actual race of the perpetrators – is always to punish Black people. Whenever the symptoms of the national sickness – America's endemic violence and alienation – become catastrophically acute, as in Newtown, the standard treatment is mass Black incarceration, by which huge proportions of the Black male population are expelled from the social body like foreign organisms.

The madness in a well-off town in Connecticut had nothing to do with Black inner city violence, which is overwhelmingly rooted in the absence of a legitimate economy, and a lack of social justice – and requires an economic and social justice response. But America is preprogrammed to treat violence as a Black phenomenon.

No Security Firms for African Refugees: Opportunities and War in Mali

By Ramzy Baroud
February 13, 2013

The British security firm G4S is set to rake in massive profits thanks to crises in Mali, Libya and Algeria. Recognized as the world's biggest security firm, the group's brand plummeted during the London Olympics last year due to its failure to satisfy conditions of a government contract. But with growing unrest in North and West Africa, G4S is expected to make a speedy recovery.

The January 16th hostage crisis at Algeria's Ain Amenas gas plant, where 38 hostages were killed, ushered in the return of al-Qaeda not as extremists on the run, but as well-prepared militants with the ability to strike deeply into enemy territories and cause serious damage. For G4S and other security firms, this also translates into growing demands. "The British group (..) is seeing a rise in work ranging from electronic surveillance to protecting travelers," the company's regional president for Africa told Reuters. "Demand has been very high across Africa," Andy Baker said. "The nature of our business is such that in high-risk environments the need for our services increases."
African Diaspora: The Real Invasion of Africa is Not News and a Licence to Lie is Hollywood's Gift

By John Pilger
January 31, 2013 - johnpilger.com

A full-scale invasion of Africa is under way. The United States is deploying troops in 35 African countries, beginning with Libya, Sudan, Algeria and Niger. Reported by Associated Press on Christmas Day, this was missing from most Anglo-American media.

The invasion has almost nothing to do with "Islamism", and almost everything to do with the acquisition of resources, notably minerals, and an accelerating rivalry with China. Unlike China, the US and its allies are prepared to use a degree of violence demonstrated in Iraq, Afghanistan, Pakistan, Yemen and Palestine. As in the cold war, a division of labour requires that western journalism and popular culture provide the cover of a holy war against a "menacing arc" of Islamic extremism, no different from the bogus "red menace" of a worldwide communist conspiracy.

Reminiscent of the Scramble for Africa in the late 19th century, the US African Command (Africom) has built a network of supplicants among collaborative African regimes eager for American bribes and armaments. Last year, Africom staged Operation African Endeavor, with the armed forces of 34 African nations taking part, commanded by the US military. Africom's "soldier to soldier" doctrine embeds US officers at every level of command from general to warrant officer. Only pith helmets are missing.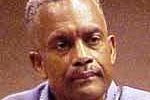 Trinicenter.com Reporters
January 29, 2013 - trinicenter.com

The Celebration and Thanksgiving Service for the life of Professor Dr. Tony Martin was held on Friday 25th January, 2013, at St. Theresa's Church Woodbrook. Friends, family, historians and activists gathered to pay their respects to the Trinidad-born scholar best known for his work on Marcus Garvey.

In attendance were Khafra Kambon, Chairman of the Emancipation Support Committee; Asha Kambon; Peal Eintou Springer; Atillah Springer; Rubidiri Victor; Deryck Murray; David Abdullah; Hollis 'Chalkdust' Liverpool; Professor Brinsley Samaroo; Professor James Smalls; Donna McFarlane, Director/Curator of Liberty Hall, Kingston, Jamaica; Professor Rupert Lewis (U.W.I. Jamaica); Sheldon Blackman; Hubert Peter Diaz, 'The Flagman'; Martin's ex-wife Dr. Paloma Mohammed and young son Shabaka Martin among others.
Caribbean: How the International Community Failed Haiti


Hundreds of Thousands Homeless in Haiti Three Years After the Earthquake Despite Billions in Aid Funneled to NGOs, Contractors and Internationals

By Bill Quigley and Amber Ramanauskas
January 17, 2013 - counterpunch.org

Despite billions in aid which were supposed to go to the Haitian people, hundreds of thousands are still homeless, living in shanty tent camps as the effects from the earthquake of January 12, 2010 remain.

The earthquake devastated Haiti in January 2010 killing, according to Oxfam International, 250,000 people and injuring another 300,000. 360,000 Haitians are still displaced and living hand to mouth in 496 tent camps across the country according to the International Organization of Migration. Most eat only one meal a day.
Racism Watch: The Ultimate Logic of a Society Built on Mass Murder


A Black Agenda Radio commentary by Glen Ford
January 07, 2012 - blackagendareport.com

"Mass murder is at the core of the American national religion."

As a native-born American, I grew up watching cowboy and Indian shoot-em-ups in which the highlight of the movie was when the white guys in the circled wagon train shot the Indians off their horses until all the red men were dead, and very silent. Indians didn't do a lot of screaming in pain when they were shot; they just expired. Same thing with buck-toothed Japanese, line after line of them, charging into U.S. machine guns, falling instantly silent and dead. It was somehow quite clean, almost antiseptic, these cinematic rituals of death, all staged for the broadest popular consumption to demonstrate the inevitability – and cosmic justice – of ultimate white victory over the darker races.


Is This Child Dead Enough for You?

By Chris Floyd
December 06, 2012 - chris-floyd.com

To all those now hailing the re-election of Barack Obama as a triumph of decent, humane, liberal values over the oozing-postule perfidy of the Republicans, a simple question:

Is this child dead enough for you?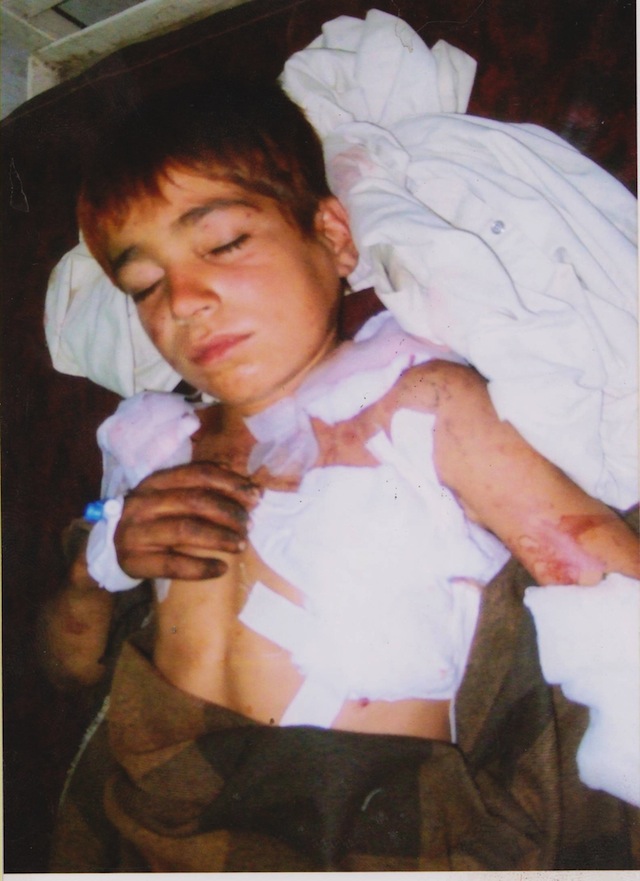 Don't have an account yet? You can create one. As a registered user you have some advantages like theme manager, comments configuration and post comments with your name.
There are currently, 203 guest(s) and 12 member(s) that are online.

You are Anonymous user. You can register for free by clicking here