There isn't a Biggest Story for Today, yet.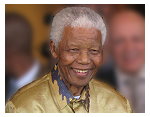 By Stephen Gowans
December 07, 2013 - gowans.wordpress.com

It seemed almost inevitable that on the new day Western newspapers were filled with encomia to the recently deceased South African national liberation hero Nelson Mandela that another southern African hero of national liberation, Robert Mugabe, should be vilified. "Nearly 90, Mugabe still driving Zimbabwe's economy into the ground," complained Geoffrey York of Canada's Globe and Mail.

Mandela and Mugabe are key figures in the liberation of black southern Africa from white rule. So why does the West overflow with hosannas for Mandela and continue to revile Mugabe? Why is Mandela the good national liberation leader and Mugabe the bad?

A lot of it has to do with the extent to which the liberation projects in South Africa and Zimbabwe have threatened white and Western economic interests—hardly at all in Mandela's South Africa and considerably in Mugabe's Zimbabwe.
African Diaspora: Mandela, A Life of Struggle: The History Most Mainstream Obits Omit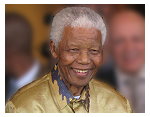 By Derrick O'Keefe and Jahanzeb Hussain
December 07, 2013 - commondreams.org

Nearly 50 years ago, in 1964, Nelson Mandela — along with many other comrades in the struggle for the liberation of South Africa from racist white domination under apartheid — was sentenced to life in prison. His statement to the court, made when he was facing the real threat of execution, remains an historic demonstration of defiance and resistance.

Mandela's sentence was "reduced" to life imprisonment. He would spend 27 years caged by the brutal racist regime in South Africa, before the resistance movement there and a worldwide solidarity campaign helped to force his release.

Many times, the apartheid government dangled a pardon for Mandela — if he would agree to publicly renounce the armed struggle. Contrary to liberal, depoliticized histories of the life of Mandela, he was in fact a political leader who believed in achieving liberation by any means necessary. Indeed, in 1961 he helped to found Umkhonto we Sizwe — which means 'Spear of the Nation' — an armed struggle wing of the liberation movement. Earlier that same year, Mandela gave his first ever television interview. In it, he alluded to the sense of futility of fighting against a violent apartheid regime with only non-violent means.
World Focus: Monsanto, the TPP and Global Food Dominance

By Ellen Brown
November 26, 2013 - ellenbrown.com

"Control oil and you control nations," said US Secretary of State Henry Kissinger in the 1970s. "Control food and you control the people."

Global food control has nearly been achieved, by reducing seed diversity with GMO (genetically modified) seeds that are distributed by only a few transnational corporations. But this agenda has been implemented at grave cost to our health; and if the Trans-Pacific Partnership (TPP) passes, control over not just our food but our health, our environment and our financial system will be in the hands of transnational corporations.

Profits Before Populations

Genetic engineering has made proprietary control possible over the seeds on which the world's food supply depends. According to an Acres USA interview of plant pathologist Don Huber, Professor Emeritus at Purdue University, two modified traits account for practically all of the genetically modified crops grown in the world today. One involves insect resistance. The other, more disturbing modification involves insensitivity to glyphosate-based herbicides (plant-killing chemicals). Often known as Roundup after the best-selling Monsanto product of that name, glyphosate poisons everything in its path except plants genetically modified to resist it.


By The Public Archive
November 14, 2013 - thepublicarchive.com

On September 23, 2013, the Constitutional Court of the Dominican Republic ruled that the children of "irregular" migrants born in the Dominican Republic after June 21st, 1929 would be stripped of their Dominican citizenship. The ruling – which could render 250,000 Dominicans of Haitian descent stateless – came as a result of a challenge by Juliana Deguis Pierre against the Dominican Electoral Board. The Electoral Board refused to issue Pierre an identification card. They argued that although she was born in the "national territory," because she was the daughter of migrants in transit she did not have the right to Dominican citizenship. They based their ruling on article 11.1 of the Dominican Constitution of November 29, 1966 which held sway when Pierre was born.

While Ms. Pierre was the subject of the Constitutional Court's ruling, it also targets all Dominicans of Haitian descent. The decision also formalizes a process of exclusion, racism, and harassment that had already construed Dominicans of Haitian descent as second-class citizens in their own country while marginalizing Haitian immigrants. Indeed, even before the ruling, Haitian immigrants had been subject to demeaning raids and dragnets by the Dominican security forces while in the past thirteen months, since August 16, 2012, almost 47,700 undocumented Haitians were expelled from the country – more than twice the figure of 20,541 expelled during the previous year.


By Margaret Kimberley
November 06, 2013 - blackagendareport.com

"It seems that white supremacy is the new national pastime every October."

Black people have been stigmatized with racist caricatures from the first moment that Africans encountered Europeans. People who worked without pay at the point of a lash or a gun were called lazy. The victims of sexual assault were themselves labeled as "over sexed" perverts and freaks. This awful history isn't dead. It is celebrated by millions of people who think that our plight and position in society is part of the natural order of the universe. At the first possible opportunity they publicly display their hatred and their determination to exult in and continue white supremacy.

This tendency may always be present but in recent years Halloween is the moment when the ghouls show themselves. This celebration has morphed from what used to be a simple children's holiday into a multi-billion dollar, month long event for adults. What was an enjoyable time to dress up in costume has become the white racist moment to act out sick fantasy. They do so quite publicly, with numerous examples made easily visible on social media.


By Glen Ford
October 31, 2013 - blackagendareport.com

"Real reparations means nothing less than a revolution in global power."

Twelve English-speaking Caribbean nations, plus Haiti and the South American country Surinam, are going to court demanding reparations from their former colonial masters for the crime of slavery. Great Britain, France and the Netherlands, all of [which] grew fat from generations of captured African labor, would be defendants in a trial before the International Court of Justice, the world body that adjudicates disputes between nations. The Black countries have hired the British law firm Leigh Day, which won a settlement for victims of British torture in Kenya. Judging by the way the lawyers tell it, this is going to be a very polite affair, in which the Caribbean countries will angle for some type of relatively modest money settlement.

By "relatively modest," I mean that real reparations would be enough to forever sever the relationship of subservience of the former slave colonies to global systems of white supremacy and European rule. Real reparations means nothing less than a revolution in global power, because without such a revolution, those nations that became rich from slavery will maintain their position as overlords deep into the future. Ten or even fifty billion dollars in payments divvied up among the plaintiffs in a lawsuit will not change the basic master-slave relationship that has obtained since Europe embarked on world conquest, 500 years ago. Unless there is a fundamental political change within these Caribbean nations, such as occurred in Cuba, then any exchange of money will only reproduce the existing neocolonial relationships. If the leadership of Caribbean governments is incapable or unwilling to build new social relations at home, they cannot be expected to use reparations money to build true independence, internationally. I strongly suspect that what is really on the table is an "aid" package in "reparations" wrappings – which would be an insult to the ancestors and a deception of the living.


By Margaret Kimberley
October 06, 2013 - blackagendareport.com

"Our government bears responsibility for the loss of life at the Kenyan mall."

"Does al Shabab Pose a Threat on American Soil?" So read a headline in the New York Times' blog, Room for Debate. Despite its name, Room for Debate rarely shows any true differences of opinion on whatever issue of the day is considered significant to the Times' editors. None of the supposed debaters on this topic actually addressed the central issue of al-Shabaab's existence and what it says about the United States behavior around the world. A better question would be why the United States turned Somalia into a ruin and why does it keep killing people there.

Sometimes we get the opportunity to see violence up close as in the recent al-Shabaab attack on the Westgate shopping mall in Nairobi, Kenya. But in the absence of good reporting, scenes of carnage tell us nothing. Thanks to liar presidents and their partners in the corporate media, Americans know nothing about Kenya or its role as American partner in keeping Somalia in a constant state of war.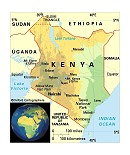 By Mark P. Fancher
October 06, 2013 - blackagendareport.com

"There has been speculation that the U.S. drive to dominate Somalia's oil supply has prompted an interest in perpetual instability and division within the country."

A 2011 report prepared for members of Congress lacks significant references to Kenya, but it details eye-opening events in Somalia that set the stage for the recent attack on a Kenyan shopping mall. The Congressional Research Service (CRS) report, titled "Somalia: Current Conditions and Prospects for a Lasting Peace" also contains facts that allow readers to conclude that much of the innocent blood shed by shoppers killed by al-Shabaab militants drips from western imperialist hands.

The recent shopping mall attack was reportedly in retaliation for Kenya's participation in military operations against al-Shabaab in Somalia in 2011. Al-Shabaab became a force in Somalia after a 2006 military operation that dislodged a government run by "The Islamic Courts Union," a network of tribunals that administered Islamic law. In 2006, the U.S. State Department's point person for African affairs was Jendayi Frazer, and she was quoted as saying: "The top layer of the [Islamic Courts Union] courts are extremist to the core. They are terrorists and they are in control."
World Focus: If Charles Taylor is a War Criminal, Then So are Obama, Bush and Clinton

"Clinton, Bush and Obama have instigated, encouraged and collaborated in the worst genocide since World War Two."
By Glen Ford
October 06, 2013 - blackagendareport.com
"Whereas Liberian president Charles Taylor was accused of encouraging the slaughter of possibly 50,000 people in Sierra Leone, Obama, George W. Bush and Bill Clinton have armed, financed and protected the killers of six million people – 120 times as many fatalities – in the eastern Congo."

Last year, former Liberian president Charles Taylor became the first former head of state ever to be convicted by an international tribunal. Taylor, whose 60-year prison sentence was upheld, last week, was found guilty of war crimes – not in his own country, but in neighboring Sierra Leone, where a civil war had raged from 1991 to 2002. The Liberian president wasn't accused of personally committing mass murder in Sierra Leone, or even of having ordered that these crimes be committed. Instead, the prosecution argued that he had "instigated" others to commit the crimes in order to profit from the sale of what became known as "blood diamonds." The court reasoned that Taylor must have known about the horrendous crimes that were being perpetrated by his friends among the rebels in the neighboring country, and was, therefore, as guilty as they were.


By Cynthia McKinney
September 27, 2013 - blackagendareport.com

Former Georgia congresswoman Cynthia McKinney, who last week completed a peace mission to Syria along with former U.S. attorney general Ramsey Clark and others, made the following remarks to the IBON IBON Conference on Democracy, Self-Determination and Liberation of Peoples. The conference was held at the European Parliament in Brussels, Belgium.

Thank you for the invitation to be with you today.

This conference is about Democracy, Self-Determination, and popular liberation.

As a representative of the United States people's movement for justice and peace, I want to start by acknowledging some facts about the practice, as I know it, of one form of "democracy."
Syria: Syria's New Game: The Russian Factor


By Ramzy Baroud
September 18, 2013

Many US media commentators were fairly accurate in labeling some of the language used by Russian President Vladimir Putin in a New York Times article as "hypocritical". But mainstream US media should be the last to point out anyone's hypocrisy as it has brazenly endorsed every military intervention unleashed by their country since World War II.

Putin's statement "we must stop using the language of force and return to the path of civilized diplomatic and political settlement," merits serious scrutiny. Considering that violence has been a readily available option in Russia's own wars from Afghanistan, to Chechnya and Georgia, the language of dialogue and civilized political settlements have been rarely exercised.

However, independent from that context, Putin was surely correct in his assessment of US behavior. It was indeed difficult to point out any palpable inaccuracy in Putin's NYT's article published on the 12th anniversary of the September 11, 2001 attacks.


By BAR executive editor Glen Ford
September 06, 2013 - blackagendareport.com

"U.S. imperialism has no option but to bang its military fist on the table to reset the global game board."

With obscene imperial arrogance, President Obama proclaimed that the "world" – not he – has drawn a bloody "red line" in Syria. "I didn't set a red line," said Obama, at a stop in Sweden on his way to a Group of 20 nations meeting in St. Petersburg, Russia. "The world set a red line."

That's news to the rest of the planet, including most of the Group of 20 and the meeting's host, Russian President Vladimir Putin, who described Obama's claims that Syria used sarin gas against civilians in rebel-held areas as "completely ridiculous." "It does not fit any logic," said Putin, since Syrian President Assad's forces "have the so-called rebels surrounded and are finishing them off."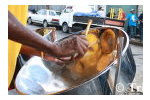 Challenging Caribbean Inferiority and Cultural Prostitution

By Ras Tyehimba
August 07, 2013

There was a picture recently of Pope Francis playing the Steelpan next to T&T president Anthony Thomas Aquinas Carmona who presented it to him as a gift. This picture was published by the media, several Steelpan websites and has made its way around various social media platforms. One website exclaimed: "Truly a great day for our nation and our national instrument! The pope is a Trini now!" Another Steelpan website expressed, "Steelpan is the sweetest!! Just ask the Pope."

As the only musical instrument of the 20th century and as what I consider to be one of the greatest inventions of the Caribbean region it makes sense for the pan to be a gift to persons and nations that Trinidad and Tobago interacts with. However, the power of the Steelpan is not just about the sweet music it produces, but also about how it was created. The Steelpan emerged from the most disenfranchised and looked-down elements of society. It is these grassroots, mainly Afro-Trinidadian sections of society who had been most affected by the structures of colonial society in which legitimacy and social status was defined by race, skin colour, class and acceptance of the Christian religion.


By Onika Henry
August 06, 2013

Racism is oppressive, dehumanising and has been systematically put in place to keep people from achievement and advancement, based on a belief of superiority over another or "more worthy than" the other. I do not recall a time when certain groups of people EVER had the power to enforce racism. To suggest certain people practise racism and "reverse racism" when they discriminate against others, is in my opinion, an indication of ignorance of what racism really is and how it operates. To me it suggests a denial of truth and/or an inability to see and feel from another's perspective.

Those who have never lived the life as a member of an oppressed group, or who have not inherited the sometimes intangible but real effects of hundreds of years of slavery and dehumanisation (which continues in more subtle and disguised forms today) may find it difficult to understand how the weight of racism can crush the spirit. While for some, living the life of a civil and human rights fighter or activist on a daily basis is a fine and comfortable choice, for others, the "fight" takes on the persona of a moral commitment to live life holistically and to promote well-being of self, family, friends and colleagues, which in and of itself is another way of dealing with oppression.


By Tinomudaishe Chinyoka
August 6, 2013 - herald.co.zw

I WRITE as someone that has previously written, and been known as a supporter of the MDC. But, I guess in this life we are all allowed at least one mistake, and mine was to think that despite having a brother and a sister that went to Mozambique to fight for our country, I knew better. I did not. You will hear a lot of rubbish about rigging and ZEC that and voters' roll that, but, speaking as someone that was on the other side, the MDC lost this election because politically, they are naive.

Their naiveté is not helped by the fact that they are led by the stupidest man this side of heaven.

Because of this fact, which I believe he is aware of, Tsvangirai has gone about decimating his own party, removing anyone that was intelligent or could connect to the people, and all the while hoping that this would keep him popular.

It did not. He rigged his own primaries, rigged his own congress, sent delegations to rig elections in the Diaspora for their assemblies, and now, because that is the only way he knows to win elections, assumes that when others win, they must have rigged.

Ha!

Don't have an account yet? You can create one. As a registered user you have some advantages like theme manager, comments configuration and post comments with your name.
There are currently, 240 guest(s) and 18 member(s) that are online.

You are Anonymous user. You can register for free by clicking here