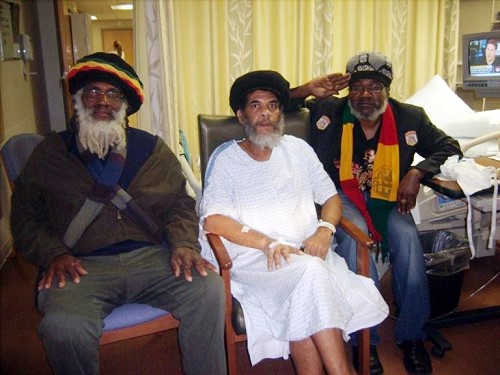 LEFT: Baba Ras Marcus, Ras Iyapert and Dejazmatch Iyarge
Rastafari People Remain African Liberators
By Ras Marcus
July 09, 2010

It is very important for Rastafari People and African people in general, to acknowledge the fact that when fruits are matured and ripe on the trees, they will no longer stay on the trees, but they will instead fall to the ground and remain there, unless some persons or other living creatures take up those fruits and make use of them by eating them, if those fruits are eatable. Likewise, the leaves do fall off the trees when their work are finished on those trees, and they go back to the earth to mulch the earth and make it fertile.

When our African Patriots, Elders and Liberators and people in general, make the great transition, and their spirits fly away into the atmosphere of this great Universe, leaving their remains behind, we should learn that the real internal power, which was causing the structure to move about, has departed, and therefore, the structure can no more move around on its own, because the living breath of fresh air has departed into the atmosphere.

When we pay respect and tribute to those of our African Liberators who have passed away, it is the good attitudes and self-determination, and good moods in the struggle, for the liberation of African people which we are respecting. I was very fortunate, to have known and worked with most of the more than 100 Elders who have past away over the past 50 or more years, and I am talking about elders who were in the struggle during the middle 50s and before, and Ras Iyapert has also worked with and had known some of them since he came into the struggle in the year 1959.

I do not think that it is too late, to pay tribute to elders like Ras Shadrack, Bongo Wato, Bongo Poorru, Bongo Spence, Mortimer Plano, Ras Derminite, Bongo Iyarney(Tarney) Bongo Johnny, Mama Ina, Mama Daphney, Iyaughta Nellie, Ras Niehmiah, Ras Samuel Brown, Brother Napier, Bongo Skipper, Ras Dasilva, Bongo Titus, Bongo Bigman, Bongo Blackheart, Bongo Author, Bongo Ackee and Sister Ackee, Bongo Bigger, Ras Pidow, Bongo Iyatanya, Ras Iyizzy Iyanny, Ras Iyarussie, Ras Iyacle Iyon, Ras Loydd, and all those so many more named and unnamed, who have made the great transition while fighting for the rights of African people everywhere, including African Liberators in Mama Africa and other parts of this world. I would just like to remember you all and your great liberation works, and pay great tribute and respect to you all for your great courage and self-determination as it relates to liberation for African people everywhere.

There are so many others who have not been named here, with whom I have worked, I am not certain if they are still walking and talking, since some of them were much older than I, and some of them were also younger than I. But whatever may be the case, or where ever their spirits may be, I would also like to pay respect unto them, and thank them for their self-determination and great courage in those early days of the struggle of the Rastafari people's movement, against Babylon and their slave trading activities, which they practiced against African people everywhere.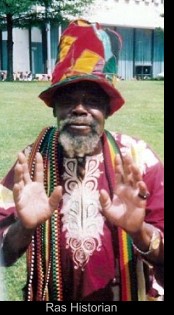 Twenty-six and a half Mark Lane, is situated just below East Queen Street, in Kingston Jamaica, West Indies. There is a little shop there which managed to become a very historic place as it relates to the struggles of Black people, for economic survival during the 1970s and 1980s. It became a very historic place, because it was the headquarters of The United Vendors Association where vendors from all over the island of Jamaica would visit on a daily basis to make complaints about any problems which they encountered while doing business - to seek advice on various business matters, to get assistance in the preparation of their traveling documents, to complain about their lost luggage on the planes, to get their United Vendors Identification card with their picture on it, and to seek general solutions, for whatever problems which came about during their active days in business.

Ras Historian was the President of the United Vendors Association and Ras Iyapert (Rupert) was the main advisor and Consultant within the association. Ras Iyapert was also actively helping vendors to acquire their visas to travel abroad by legal consultations, and each time that a vendor became successful in acquiring his or her visa, they shared the information of success with others, and that was also very helpful in making the United Vendors Association successful and larger from day to day.

The Association would have monthly meetings at the Coke Methodist Church, which is just five minutes walk from the Mark Lane Headquarters of the Association since there is a back gate of this church which is also on Mark Lane. At the meetings, Ras Historian (Eric Clement) and Ras Iyapert would preside over the meetings, and would often invite representatives from the Airlines, Chamber of Commerce and others, to hear the complaints of the vendors and to help to find solutions for those problems which were solvable. One Airline, as I remember, gave five traveling tickets to the Association to send observers to Curacao to observe the living conditions under which vendors live in hotels and other service areas when they traveled there. The observers were able to meet with the Governor and other officials of Curacao and had fruitful discussions relating to the problems involved. The observers were also taken to the Free Zone to observe how vendors were treated while shopping at the Free Zone.

Everything which I witnessed cannot be mentioned in this article, but the main point which I am trying to make is that the United Vendors Association was very helpful in the economic advancement of African people in Jamaica in the past, and that this Association was established and administered by Rastafari People, with the United assistance of African people across the Island of Jamaica. I would also like to make it very clear that Ras Historian and Ras Iyapert were the main administrators with help from other Rastafari people. There were other African people who were helpful but if I try to call any more names here, I would not be able to bring this article to its conclusion which is what I intend to do now. The pictures of Ras Historian and Ras Iyapert are above in this article, let us pay respect to them by just taking a good look at them. As far as I am aware, Ras Historian is still alive but he is facing hard times now. Being a much older person, he has become very sickly with no one to take care of him, and he is not able to take care of his self as he did in the past. I am presently trying to get more information concerning his direct situation and I will post this information if I get it. Take the best care of yourselves and your people.

Again, I send many oceans of blessings and self-determination to African people everywhere.
ONE BLACK HEART ONE BLACK LOVE.
Baba Ras Marcus.