There isn't a Biggest Story for Today, yet.
There isn't content right now for this block.



By Stephen Gowans
December 05, 2012 - gowans.wordpress.com

Will the United States, or its proxies, directly intervene militarily on the side of Syrian rebels? If so, a pretext will likely be needed, and it may be this: Syrian leader Bashar Assad, desperate to cling to power, is poised to use chemical weapons against civilians. An intervention is necessary to prevent a massacre.

Yesterday, White House Press Secretary Jay Carney said:"We are concerned that an increasingly beleaguered regime, having found its escalation of violence through conventional means inadequate, might be considering the use of chemical weapons against the Syrian people." (my emphasis) (1)

The Syrian Foreign Ministry denies the allegation, ruling out the use of chemical weapons against Syrians "under any circumstances." (2)
War and Terror: What is the Difference Between Benjamin Netanyahu & Colin Powell?


The Precautionary Principle in Action

By Franklin C. Spinney
October 01, 2012 - counterpunch.org

Who is the more sophisticated bullshitter when it comes to convincing the world of the pressing need to bomb a Muslim country before it attacks anyone — Colin Powell or Benjamin Netanyahu. The attached visual aid combined with the entymology of the word "sophisticated" and an analysis of the word before should enable you to answer to the question to your own satisfaction.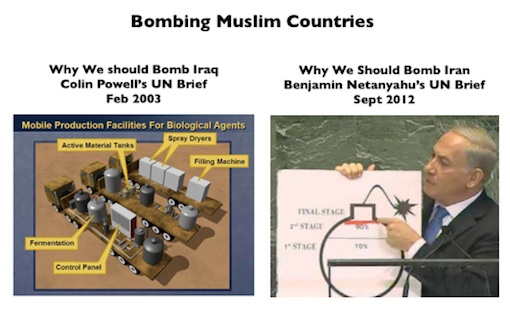 The charts speak for themselves. Now consider please the following elaboration of the preceding italicized words:
War and Terror: The Irrationality of the Case against Iranís Nuclear Program


By Gary Leupp
April 13, 2012 - counterpunch.org

President Obama has informed the Iranians they have one "last chance" to avoid attack. They must suspend higher uranium enrichment, close down the Fordow enrichment facility, and "surrender" their stockpile of uranium enriched to 20 per cent purity. Iranian officials respond matter-of-factly that such demands are "irrational." (Some Israeli officials, eager to build the case for attack, are reportedly delighted with the Iranian response.)

Seasoned U.S. analysts seem to agree with the Iranian assessment.Stephen M Walt writes in Foreign Policy, "For the life of me, I can't figure out what the Obama administration is thinking about Iran... I'm puzzled." Gary Sick, writing for CNN, predicts dire consequences of an attack on Iran and seems to question its wisdom. So why is Obama being so confrontational? So irrational?
War and Terror: Rationalizing Idiocy: Attacking Iran For All the Right Reasons?


By Ron Jacobs
January 30, 2012 - dissidentvoice.org

Unlike a couple of years ago, when the consensus was split, there recently seems to be a growing consensus among pundits and certain politicians that Washington will be launching a military attack on Iran. While pundits do not have the power to make war, politicians in Congress certainly do. Furthermore, pundits convinced that this is an advisable route will do their best to bend the ears of those politicians so that there wishes can be filled, especially if those pundits are representing interests that believe they would benefit from such an attack.

Why now? Part of the reason is because the majority of US troops are out of Iraq, thereby leaving a minimal number of American soldiers available for Iranian retaliation. A related reason could be the loss of prestige to Washington with the withdrawal of those troops. It's not like Washington won its war in Iraq; it's more like it was a stalemate with Tehran still holding on to a couple key cards. Israel, with an element of its ruling elites always ready to attack any perceived enemy, is of course a constant element in the drive to destroy Iran, as are the ruling families of certain Arab Gulf states that compete with Tehran in the oil market. Iran's alleged support for various resistance movements in the Middle East and Asia provides Israel with but one more reason to call for war, especially since those resistance movements are primarily opposed to Israel's expansionist anti-Palestinian policies.


By Stephen Lendman
January 25th, 2011

On January 23, Al Jazeera released breaking news on its extensive "Palestine Papers" coverage, introducing them, saying:

It "obtained more than 1,600 internal documents from a decade of Israeli-Palestinian negotiations," writer, Gregg Carlstrom, explaining that:

Over the last several months, Al Jazeera has been given unhindered access to the largest-ever leak of confidential documents related to the Israeli-Palestinian conflict.

They include "nearly 1,700 files, (and) thousands of pages of diplomatic correspondence detailing the inner workings of" peace process negotiations.


By William Blum
September 02, 2010 - killinghope.org

Iraq

"They're leaving as heroes. I want them to walk home with pride in their hearts," declared Col. John Norris, the head of a US Army brigade in Iraq.[1]

It's enough to bring tears to the eyes of an American, enough to make him choke up.

Enough to make him forget.
War and Terror: North Korean, Iranian nuclear capability threatens US imperialism


By Stephen Gowans
April 20, 2010 - gowans.wordpress.com

Washington Post columnist Walter Pincus has put his finger on what's wrong with north Korea and Iran developing nuclear weapons, or having the capability to do so.

The problem is that nuclear weapons are a deterrent, which means that if either country possesses a credible nuclear arsenal and the means of delivering warheads, their conquest by US forces isn't in the cards. And that is something Pincus seems to regard as regrettable.

In his March 30 column Pincus points to General Kevin P. Chilton, head of the US Strategic Command.

Chilton reminded US legislators that, "Throughout the 65-year history of nuclear weapons, no nuclear power has been conquered or even put at risk of conquest, nor has the world witnessed the globe-consuming conflicts of earlier history." [1]


By Stephen Gowans
September 07, 2009
gowans.wordpress.com

Brian Martin, a professor of social sciences at Australia's University of Wollongong, has written a reply to my article Overthrow Inc.: Peter Ackerman's quest to do what the CIA used to do and make it seem progressive, and then a reply to my reply. Martin is the author of a number of books and articles on nonviolence, including Nonviolence against Capitalism, Technology for Nonviolent Struggle, and "Nonviolent strategy against capitalism" (in Social Alternatives, Vol. 28, No. 1, 2008, pp. 42-46.)

In the latest exchange, I try to show that the disagreement between Martin and me is rooted, I believe, in a conflict between Marxist and anarchist perspectives on the state, and the question of whether the state is inherently good or bad.
War and Terror: John Pilger on Honduras, Iran, Gaza, the Corporate Media, Obama...


John Pilger on Honduras, Iran, Gaza, the Corporate Media, Obama's Wars and Resisting the American Empire

July 06, 2009
Democracy Now! democracynow.org

Award-winning investigative journalist and documentary filmmaker, John Pilger, joins us for a wide-ranging conversation on on Honduras, Iran, Gaza, the media, health care, and Obama's wars in Afghanistan and Pakistan. Pilger has has written close to a dozen books and made over 50 documentaries on a range of subjects including struggles around the world for a more just and peaceful society and against Western military and economic intervention.

Real Video Stream | Real Audio Stream | MP3 Download


---
AMY GOODMAN: From the events in Honduras, we step back to reflect how the media's been covering the coup in that country. Last week, award-winning investigative journalist and documentary filmmaker John Pilger was visiting the United States. He was born in Australia but has lived in London since the 1960's and began his career as a hard- hitting war reporter covering the Vietnam War. He has written close to a dozen books and made over 50 documentaries on subjects ranging from struggles around the world for a more just and peaceful society and against western military and economic intervention, films on East Timor, Cambodia, Vietnam, Iraq, Israel, Palestine, and the United States.


Hundreds of people attended a Stop the War rally in central London on Thursday of last week. Respect MP George Galloway spoke at the meeting about the disaster of the war on Iraq

socialistworker.co.uk

'Not only have 655,000 Iraqis died, there are also hundreds of thousands of maimed Iraqis, hundreds of thousands of homeless Iraqis, millions of Iraqis with no electricity and no water.

According to the United Nations, four million Iraqis have fled the country or fled their homes to live elsewhere in Iraq.

That's the scale of the disaster that these criminals, George Bush and Tony Blair, have taken us into. This is a disaster that has scarred the face of the world forever. It has disfigured the entire legal, diplomatic, economic face of the world.


By Ron Jacobs, counterpunch.org
February 05, 2007

Recent media reports about Iran suggest that President Ahmadinejad has run slightly afoul of the clerics in that country's Council of Guardians. Most specifically, the Imam Khamenei has publicly criticized the president's statements about Iran's nuclear program and his government's failure to stop inflation in Iran. Khamenei, for those who don't know, is the Supreme Leader of Iran, which means that, he reviews every political decision made by the Iranian legislature and the president according to the Koran and its interpretations. He has issued a fatwa that states the production, stockpiling and use of nuclear weapons was forbidden under Islam. He has also supported the economic subsidies of basic goods and shelter and free medical care for all Iranians--two programs currently existing in Iran This support stems from the Koran's teaching that those who can afford it must pay zakat to help the poor, although the institutionalization of it through Tehran could be considered part of the Islamic government's successful attempts to remove leftists and their thought from the revolutionary regime by renaming their programs and then killing the left.


by William Blum, killinghope.org
January 16, 2007

Johnny Got His Gun

In the past year Iran has issued several warnings to the United States about the consequences of an American or Israeli attack. One statement, issued in November by a high Iranian military official, declared: "If America attacks Iran, its 200,000 troops and 33 bases in the region will be extremely vulnerable, and both American politicians and military commanders are aware of it."[1] Iran apparently believes that American leaders would be so deeply distressed by the prospect of their young men and women being endangered and possibly killed that they would forswear any reckless attacks on Iran. As if American leaders have been deeply stabbed by pain about throwing youthful American bodies into the bottomless snakepit called Iraq, or were restrained by fear of retaliation or by moral qualms while feeding 58,000 young lives to the Vietnam beast. As if American leaders, like all world leaders, have ever had such concerns.


by William Blum, killinghope.org
December 17, 2006

Designer monsters

Mahmoud Ahmadinejad is a man seemingly custom-made for the White House in its endless quest for enemies with whom to scare Congress, the American people, and the world, in order to justify the unseemly behavior of the empire. The Iranian president has declared that he wants to "wipe Israel off the map". He's said that "the Holocaust is a myth". He recently held a conference in Iran for "Holocaust deniers". And his government passed a new law requiring Jews to wear a yellow insignia, à la the Nazis. On top of all that, he's aiming to build nuclear bombs, one of which would surely be aimed at Israel. What right-thinking person would not be scared by such a man?


By Kurt Nimmo, kurtnimmo.com

Thankfully, the "docudrama," the Path to 9/11, thought to be a documentary by some people—likely to the glee of neocons, especially former Marxist David Horowitz—has come and gone, or at least half of it has. Now we are roiling in the political aftermath.

It is said a scene was excised "docudramatizing" Clinton's National Security Adviser Sandy Berger allowing Osama bin Laden to get a do not go to jail (or Gitmo) card, although it is not reported if the "miniseries" contains a scene portraying Berger filching upward to fifty classified documents from the National Archives reading room prior to testifying before the Bush nine eleven whitewash commission and begetter of official Brothers Grimm tall tales. Of course, the petty crime of Berger's alleged five finger discount pales in comparison to the role he played as Special Assistant to the President for National Security Affairs, guilty of war crimes against both Iraq and the former Yugoslavia. But I digress.


By Raffique Shah

War is hell, says an adage that rings truer today than when it was first coined, maybe centuries ago. And in war, truth is the first casualty-another adage that has remained unchanged from the primitive period, when giant catapults were the weapons of choice, to today's not-so-smart bombs that seem to have an uncanny honing ability in favour of unarmed civilians over combatants. Still, for all its brutality and its inhumanity, war holds a perverse fascination for those who were schooled in military history, strategy and tactics. This personal background brings me back to the deepening conflict in the Middle-East that seems poised to plunge the world into a cataclysm last experienced in World War II, which few alive today experienced or remember.

Don't have an account yet? You can create one. As a registered user you have some advantages like theme manager, comments configuration and post comments with your name.
There are currently, 163 guest(s) and 20 member(s) that are online.

You are Anonymous user. You can register for free by clicking here